last updated: June 22, 2021

Design goals
Cheap
Minimal bike modifications – it should only take minutes to put the bike back in it's original condition
Light – it shouldn't be that hard to carry
The display
The display shows the following information
Speed (km/hr.)
Time of day
Distance remaining under current conditions (km)
Valid only when speed, power and peddling effort is steady
Power consumption (Watts)
Odometer (km)
State of charge based on coulombs used (%)
State of charge based on voltage (%)
Amp-hours used so far
There are a variety of other values available to be displayed, but they're not that important and there's only so much room on the LCD.
Here's the source code (June, 2021)
The parts
Arduino Nano clone
Current sensor (Allegro ACS756).
5V switching power supply
Hall effect sensor
real time clock
Motor
24V, 1200 RPM, DC, brushed, 4″D, 6″L, very heavy. I'd like to get a better one.
Motor controller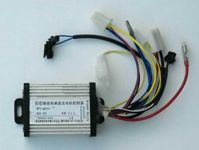 From Ridemore
The sprockets
There is a 9 tooth sprocket on the motor and 33 on the wheel.
batteries

3 10 amp-hour Lithium Iron Sulfide batteries from . They are 4 cell. Total voltage ranges from 42V to 30V.
The cost
batteries: $270 for 3
motor control: $150
upper sprocket: $20 including shipping and other costs
lower sprocket: $40
chain: $12
The rest of the parts I had lying around